Rep. John Roth: Plenty of work still to be done despite Gov. Whitmer's State of the State address
In response to the governor's annual State of the State, Rep. John Roth (R-Interlochen) issued the following statement:
"The governor's speech touched on numerous issues that I have been working on, because those are the issues local people care about. Immediate tax relief for hardworking families, individuals and seniors is critical, as folks statewide are continuously burdened by rising inflation costs, and the ever-increasing prices in essentials such as gas and groceries. I hear it from my constituents on a daily basis, and have been for far too long. Too many Michiganders are struggling to make ends meet, and it's our duty as legislators to return some of their hard-earned money back into their wallets. With a state surplus of over $9 billion, we must work together to deliver instantaneous tax relief solutions. Retirees who are living on fixed incomes need more help than ever, and it's time for us to deliver.
"The governor's plan to create an uneven playing field for seniors based on their type of retirement income is plain wrong. Furthermore, her reckless spending proposals are not fair for the Michigan taxpayers who would be footing the bill.
"While we differ on many issues, the governor must work in tandem with the Legislature to find common ground for the sake of Michigan residents."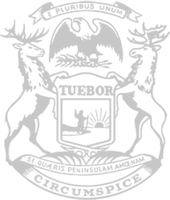 © 2009 - 2023 Michigan House Republicans. All Rights Reserved.
This site is protected by reCAPTCHA and the Google Privacy Policy and Terms of Service apply.