Rep. Harris spearheads plan to ban use of code, symbols to avoid transparency
RELEASE
|
September 20, 2023
Ρεπ. Ηαρρις σπεαρηεαδς πλαν το βαν υσε οφ ξοδε, σψμβολς το αϝοιδ τρανσπαρενξψ
State Rep. Mike Harris on Wednesday introduced a plan to prohibit the use of code or symbols in government records in order to skirt Michigan's transparency laws.
Harris, R-Waterford, introduced House Bill 5038 after a major lobbyist consulting for the Michigan Department of Environment, Great Lakes, and Energy sent advice to the department about lead water in Benton Harbor. A paragraph in the email referencing the Flint water crisis appeared in Greek characters. Later, the department did not share the email in response to a relevant Freedom of Information Act (FOIA) request. Although some of the exact details of the situation remain unclear, Harris crafted his plan to ensure no one intentionally communicates in code to keep documents secret.
"No one should employ secret codes or symbols to conceal our government's actions from the people of Michigan," Harris said. "My plan will prohibit cryptic communication and record-keeping designed to thwart transparency. Disguising documents to keep Michiganders in the dark should have no place in our government."
HB 5038 would amend FOIA to prohibit preparing any state or local government record or communication that uses code words or phrases, symbols, foreign characters, or any other content that would conceal the meaning of the document to make it harder to identify and disclose the document in response to a public records request. A government entity would need to maintain a corrected, understandable version of any such record.
Violations of the law with the intent to impede disclosure would be a misdemeanor, punishable by up to 90 days in prison and a $1,000 fine.
The plan is part of Harris' wider efforts to make government more transparent. Harris has helped lead the charge to expand FOIA to subject the Legislature and governor to record requests. His plan would also implement constitutionally required financial disclosure for legislators and other state officials. Democrats in majority have yet to move on any of the proposals.
A copy of the text of HB 5038 is attached. The bill will be formally introduced and referred to a committee next week.
###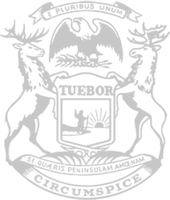 © 2009 - 2023 Michigan House Republicans. All Rights Reserved.
This site is protected by reCAPTCHA and the Google Privacy Policy and Terms of Service apply.