Rep. Harris secures bipartisan passage of local police funding plan
Public safety plan also funds victim support
State Rep. Mike Harris on Wednesday voted to provide additional, dedicated funding to help struggling local law enforcement agencies keep their communities safe.
Harris, a retired police sergeant, negotiated the final proposal to ensure the new resources are used to strengthen support for police departments and sheriff's offices amid widespread officer shortages. The improved legislation builds on Harris' work to support police and address the staffing shortages. This spring, he proposed a budget amendment to provide $100 million for new officer recruitment, retention, and equipment, but the majority party blocked the amendment.
"Staffing shortages abound in police departments around the state — putting communities at greater risk," said Harris, R-Waterford. "We need to fill the void, get more officers on the street, and put critical, up-to-date tools in their hands. After opposing an initial, poorly written proposal that failed to guarantee new support for our law enforcement, I worked alongside other colleagues with law enforcement experience, and we wrote a clear plan to deliver much-needed support directly to our local police. This dedicated funding will strengthen support for our local departments and sheriff's offices and foster safer communities for Michigan residents."
House Bills 4605 and 4606 would deposit a portion of state sales tax revenues into a new Public Safety and Violence Prevention Fund to distribute to local law enforcement agencies, with an emphasis on high-crime areas. House Republicans secured changes to the bills to ensure the resources truly support law enforcement purposes, such as local officer recruitment and retention, equipment purchases, and operating expenses. The new version of the bills ensure that local governments don't use the new public safety funding to replace existing police funding and create social programs instead of expanding law enforcement support. The amended bills also allocate 2% of the funding to the Crime Victim's Rights Fund.
"While our police prevent crime and protect our communities, this fund will also aid the innocent people who have suffered at the hands of criminals," Harris said. "I'm glad this plan will provide strong support for crime victims."
Before Harris and his Republican colleagues secured the amendments, the legislation failed to receive majority support during a floor vote last week.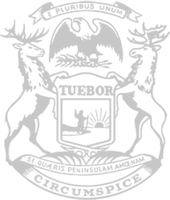 © 2009 - 2023 Michigan House Republicans. All Rights Reserved.
This site is protected by reCAPTCHA and the Google Privacy Policy and Terms of Service apply.