Rep. Harris: New reporting raises more questions about budget chair's conduct
RELEASE
|
September 27, 2023
Harris reiterates calls for government transparency
State Rep. Mike Harris, R-Waterford, on Tuesday issued the following statement reiterating his call for greater government transparency and expressing further concern about Rep. Angela Witwer's conduct in office after The Detroit News reported that the House Appropriations chairwoman allowed an after-hours baby shower in the Appropriations Committee Room at the state Capitol:
"Ethical questions continue to swirl about Rep. Witwer's business ties and her actions as a legislator, and now we learn the committee room in her Capitol suite has doubled as an event venue, in violation of House rules. This personal use of a state office raises even more questions about Rep. Witwer's conduct. After repeated reporting about her business connections to organizations that lobby state legislators, the latest incident serves as yet another reason to make Michigan government more transparent and accountable to the people of Michigan. Republicans wrote a comprehensive ethics and transparency plan months ago. What is the Democrat majority waiting for?"
Harris, who serves on the House Committee on Ethics and Oversight, is a lead sponsor of House Republicans' plan to make the Legislature and governor's office transparent, require financial disclosure of top state officials, and heighten ethical standards for lawmakers. For months, Democrats in the Legislature have refused to act on the bills, even though the Michigan Constitution requires financial disclosure by the end of the year.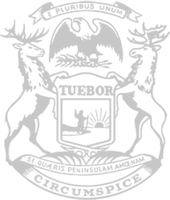 © 2009 - 2023 Michigan House Republicans. All Rights Reserved.
This site is protected by reCAPTCHA and the Google Privacy Policy and Terms of Service apply.