Rep. Harris: Leading House Democrat's questionable business relationships show need for disclosure
RELEASE
|
September 6, 2023
State Rep. Mike Harris on Wednesday expressed deep concern about revelations of the House appropriations chairwoman's business connections and called for heightened transparency and stronger ethical standards for Michigan legislators.
A report by The Detroit News revealed that Edge Partnerships, a public relations firm founded by Rep. Angela Witwer, D-Delta Township, has clients that include a variety of organizations that have lobbied for policy changes or funding in the state budget. State documents filed by Edge Partnerships show that as recently as 2022, Witwer was still the resident agent and a member of the business even while serving as a legislator, although she has since said she is no longer an owner.
"These shocking revelations set off alarm bells about Chair Witwer's business ties and possible conflicts of interest, and they clearly illustrate the need for greater transparency and stronger ethical standards in Michigan government," said Harris, R-Waterford. "Public servants have a duty to serve the people of our state and keep any personal interests from interfering with the people's work, but House Democrats won't even hold a hearing on the Republican plan to require financial disclosure and fulfill the will of Michigan voters enshrined in our state constitution. Michiganders deserve a more open and accountable government. We laid out a plan to make our state government more transparent and hold officials accountable to ethics rules. Democrats should stop stonewalling reform and help clean up our government for the people of Michigan."
Harris and fellow House Republicans introduced a package of legislation in March that would require lawmakers and other top state officials to disclose their personal finances — a policy that must be in place by the end of this year due to a state constitutional amendment approved by Michigan voters last November. The Republican package would also strengthen the requirement that legislators abstain from voting when a conflict of interest exists, with new, bipartisan ethics committees in the House and Senate ensuring lawmakers follow the enhanced conflict standards.
House Democrats on the Ethics and Oversight Committee have yet to take up House Republicans' plan — or any other legislation — this year.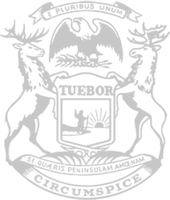 © 2009 - 2023 Michigan House Republicans. All Rights Reserved.
This site is protected by reCAPTCHA and the Google Privacy Policy and Terms of Service apply.