Rep. Bollin supports financial disclosure requirements, fulfilling constitutional requirement
State Rep. Ann Bollin today voted in support of a plan to subject Michigan's state-level elected officials to financial disclosure requirements.
Senate Bills 613-616 put into Michigan law what voters approved when passing Proposal 1 in November 2022. They will require the governor, lieutenant governor, secretary of state, attorney general, members of the Legislature, candidates for those offices to disclose certain financial information every year.
"The Legislature is under obligation to adopt these requirements pursuant to passage of Proposal 22-1," Bollin said. "I voted yes, but it's crucial to understand that our work is far from over. This legislation meets the requirements of Proposal 1, but I don't believe it reflects the intent of the people. We owe it to the people to ensure our government operates with the utmost transparency and integrity."
Bollin said she will continue advocating for legislation she has co-sponsored to strengthen ethics requirements.
Ethics reform has been a longstanding priority for Bollin. In 2021, she helped shepherd a comprehensive ethics reform plan through the House that would have also expanded sunshine laws to the Legislature and governor, closed the "revolving door" of legislators and department heads quickly becoming lobbyists; expanded penalties for lobbyist gift violations; and expanded penalties for legislative misconduct.
"Much like other legislators, I campaigned on a platform of transparency, accountability and good governance," Bollin said. "That means even when it's inconvenient we do the right thing. I look forward to working with both sides of the aisle to advance a stronger ethics package. I am confident we can do better, and I am certain of this, because we had a strong ethics package that passed through the House last session long before the people of Michigan had to present a constitutional amendment to let the sunshine in. Much to our disappointment, it stalled in the Senate.
"Now, we have the opportunity to work together and do the right thing. I will keep pushing to pass a complete ethics package and help restore the public's confidence in the government that serves them."
###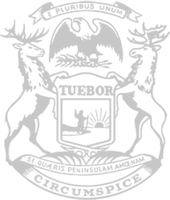 © 2009 - 2023 Michigan House Republicans. All Rights Reserved.
This site is protected by reCAPTCHA and the Google Privacy Policy and Terms of Service apply.