Leader Hall: Michiganders need affordable, reliable electricity, not utility rate hikes
House Republican Leader Matt Hall tonight voted against Democrats' radical plan to effectively ban natural gas and mandate more wind and solar — costly changes that will lead to utility companies raising electric rates while blackouts increase.
The legislation would mandate 100% "clean" energy by 2040, closing reliable natural gas plants and increasing dependence on less reliable wind and solar power.
"As Democrats held votes late into the night, they can be grateful the lights stayed on, because under their extreme Green New Deal, blackouts and brownouts will become routine," said Hall, R-Richland Township. "This radical plan will ban natural gas, close power plants, and depend too much on fluctuating, unreliable wind and solar energy — and let Gov. Whitmer's administration ignore local decisions and force wind and solar farms in rural Michigan communities to make their blackout nightmare a reality. To make matters worse, utility companies will push the costs of shutting down plants and installing experimental energy equipment onto their customers — nearly doubling monthly electric bills. High energy prices under this extreme, expensive legislation will burden Michigan families and impede the businesses who employ Michigan workers."
The "clean" energy mandates under the bills would effectively ban reliable natural gas plants, with an impractical exception only if a plant incorporates expensive, rare carbon capture technology. The final bills would also repeal a cap limiting electric rate increases for offsetting the cost of renewable standard compliance.
An expert analysis projects that average monthly electric bills could nearly double under the legislation. California, which has less strict mandates, has seen rate increases dramatically outpace national increases, causing them to backtrack on their energy mandates after widespread blackouts and brownouts.
The legislation would also give the Michigan Public Service Commission, a three-member panel of state bureaucrats, authority to approve green energy projects, taking away local communities' discretion over the placement of wind turbines and solar farms.
The Democrat-controlled House of Representatives passed Senate Bills 271, 273, 277, 502, and 519, and House Bills 5120-5121 along party lines.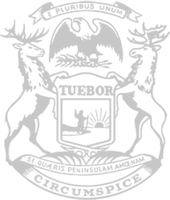 © 2009 - 2023 Michigan House Republicans. All Rights Reserved.
This site is protected by reCAPTCHA and the Google Privacy Policy and Terms of Service apply.